Product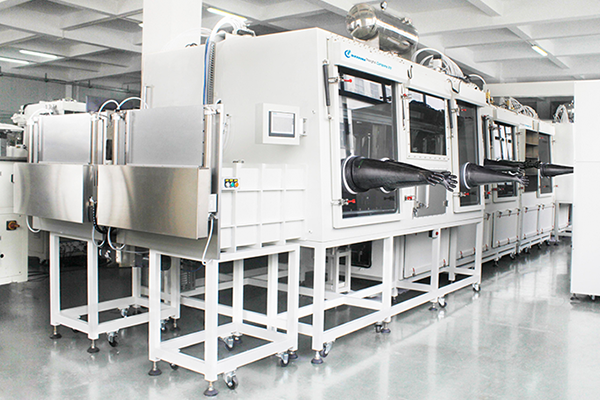 Lithium battery automatic production line
Automatic production, improve production efficiency, save labor costs
This production line can realize fully automatic code scanning-filling-weighing-replenishing-sealing operation in the super clean glove box, realizing efficient and completely unmanned automatic production, greatly saving labor costs, and greatly improving production capacity, product quality and yield , To maximize the benefits for customers, this production line is a revolution in the production of lithium batteries/supercapacitors.
1. The battery raw material package enters the glove box from the feeding bin;
2. The battery raw material package is automatically scanned and weighed, and the weighed battery raw material package is automatically placed in the material conveying device;
3. The conveying device automatically enters the liquid injection cylinder for liquid injection;
4. The batteries after the liquid injection enter the stationary cylinders 1, 2, and 3 respectively for standing;
5. The battery after standing still enters the sealing cylinder for vacuuming and sealing;
6. The sealed battery will be automatically weighed a second time, and unqualified products will enter the recycling transition bin on the left for processing;
7. Qualified batteries will be automatically sent to the discharge warehouse.